Find Out Why Medicus Scrub Caps Are The Premium Scrub Cap Solution
Medicus Scrub Benefits
We pride ourselves on providing the highest quality service and unique innovations to ensure your scrub cap lasts and fits for years to come.
About Our Scrub Caps
We do. All under one roof from when you order to when it leaves. Our close team are there to ensure everything is triple checked and to the highest quality.
Simply choose any listing for your scrub cap print.
Select your style of scrub cap.
Select your size of scrub cap.
Select any advanced customisation like embroidery or mullet pattern style of cap.
Agree to our terms for delivery and refunds
Select your Shipping + Pay.
We have several styles of scrub cap:

Bandana Tied Back Scrub Cap for Covering ears
Captain Tied Back Scrub Cap for above ear wearing.
Elastic Backed for covering ears and a smaller bag at the back for hair
Bouffant for really long hair thats tied up, optional tie for larger pony tail like dreadlocks
Hijab design to go over hijabs
Turban design for going over a turban.
We have several styles of scrub cap:

Bandana Tied Back Scrub Cap = XS to XL
Captain Tied Back Scrub Cap for above ear wearing. = S/M to XL
Elastic Backed for covering ears and a smaller bag at the back for hair = S/M to 2XL
Bouffant for really long hair thats tied up, optional tie for larger pony tail like dreadlocks. M/L to XL
Hijab design to go over hijabs = M/L to XL
Turban design for going over a turban. M/L to XL
Studies have tested cloth vs disposable scrub caps and found disposables were more prone to air contamination from a mock surgery.
We only use 100% Cotton for our scrub caps. This has the added benefit of:

No plastic - Poly-cotton blends are usually 60% plastic and 40% Cotton making them cheaper but more wasteful
Breathable - Cotton is breathable and yet thick enough to absorb moisture so no need for an extra towel inside
Hypoallergenic - Cotton is hypoallergenic meaning it doesn't cause a reaction to anyones skin.
Softness and Texture: Cotton fabric is known for its softness and natural texture. It provides a comfortable and gentle feel against the skin, making it pleasant to wear for extended periods.
Durability: Cotton is a strong and durable fabric that can withstand regular wear and tear. It has good resistance to tearing and abrasion, allowing garments made of cotton to last longer compared to poly-cotton, which may be more prone to pilling or wear.
Easy Maintenance: Cotton is relatively easy to care for and clean. It is machine washable, and most cotton garments can be tumble dried. Additionally, cotton fabric tends to resist staining and dirt, making it convenient for everyday wear.
Sustainability
We have a number on initiatives to make sure our caps last a long time and leave as little impact on the planet as we can.

We send cut offs to local schools for arts and crafts.
Our machines work on electric on a renewable tariff.
We offset over 100% of our carbon emissions in scope 1,2+3.
We use 100% Cotton to avoid plastic in poly cotton blends.
We designed our scrub caps to minimise wastage of fabric.

We are looking for new ways to promote sustainability like 30 Days wild for June.
For clients that don't have access to textile recycling facilities we are able to take it off them and have it recycled for the fee they charge us for collection.
Bulk / Hospital Order Benefits
Wouldn't be much use to offer a lot of options without flexibility so you can:

Mix and Match 22 core colours that have no minimums
Mix and Match sizes from XS to 2XL so no one is left out
Mix and Match pricing on 3 core styles of Bandana Tie Back / Captain Tie Back / Elastic Backed.
Choose your sizing of text for name and roles.
Bulk Pricing starts from as little as 10 caps and our top tier of discount is 501 caps.

We also have perks for bulk reordering that gives you the best pricing so you have flexibility and don't get trapped in a yoyo of discount breaks.
Even factoring in slight shrinking with the first wash, 100% cotton is the best way forward in the reuse-able movement. We don't buy the middle point of transitioning to 60/40 poly-cotton blends. 

In 2015, an estimated total of 42 million tonnes of plastic textile waste were generated globally, making textiles the third largest contributor to plastic waste generation, accounting for 14 % of all plastic waste (Figure 10) (Geyer et al., 2017).

The only synthetic parts are elastic bands and threads so we can get the durability your cap needs. This is a massive reduction compared to poly cotton caps.
International clients don't pay sales tax for the UK so get an even bigger discount.

UK Clients that are NHS Trusts or Non Profit Organisations can get VAT Exemptions so your budgets go further.

This means you don't have the extra 20% Added on top.
More than 200 internal medicine residents, male and female, at Brigham and Women's Hospital in Boston were given staff badges displaying their occupational title ("Doctor"). Two months later, 111 of them completed a survey (55.0% of them women) and four out of five participants reported having been misidentified in the past. 

Women were more than three times as likely than men to say they had experienced role misidentification in the past.
In one study, the use of scrub caps with embroidered names resulted in an increase in name recall amongst staff from 42% to 85%.

Another study found that the use of scrub caps with embroidered names and roles during the surgical safety checklist led to an increase in name and role introductions from 38% to 90%.
Our scrub caps can easily conform to NHS Workwear guidance for sterilisation:

There is little effective difference between domestic and commercial laundering in terms of removing micro-organisms from uniforms and workwear
Washing with detergents at 30ºC will remove most Gram-positive micro-organisms, including methicillin-resistant Staphylococcus aureus (MRSA)
A ten minute wash at 60ºC is sufficient to remove almost all micro-organisms. In tests, only 0.1% of any Clostridioides difficile spores remained. Microbiologists carrying out the research advise that this level of contamination on uniforms and workwear is not a cause for concern.
We only charge per placement of embroidery instead of the usual per character or 1,000 threads so you can get the names you wanted.
Included in the pricing of the embroidery is the comfort backing that makes the back of the embroidery super soft.

This is the same backing they use on children's embroidery so it doesn't irritate your skin after long shifts.
International
To make sure your delivery is super quick and pain free to charge the tax on your orders and then pay it for you so you just get it delivered pain free.
We default to UPS for international orders just because we have a calculator to give you the most up to date price.

If you have another courier you prefer we can accommodate and get you a quote.

Standard international is using your national postal service. In some countries we don't offer this because the service has been so poor.
From Fabrics To Bulk Ordering, We got you.
Speak To An Expert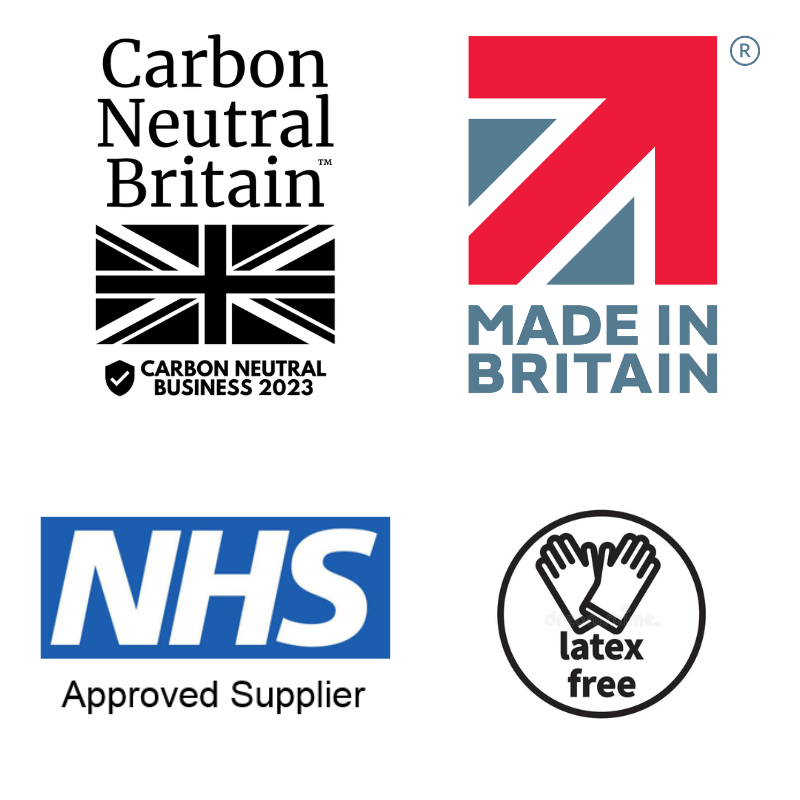 Trusted By Thousands
We are so happy we have clients wearing our scrub caps around the world on 6 continents.