"The Mullet" Scrub Cap
"The Mullet" scrub cap gets it's name for being smart and sensible in the front but a party in the back!
The idea of this is so you can keep a more professional plain scrub cap with embroidery with names and role but then party it up in the back with custom fabric from any of the other designs we sell. 
Pictures, fonts and colours in pictures are for example purposes only. If you need or want something different just send us an email. 
Simply copy the link of the other fabric you and then select your main body of cap colour and we can match them up. It's also easy to add embroidery or logos to the design too.
To take it one step further you can even get custom designed fabric for the back. Get in touch if you have any ideas and we are happy to cater.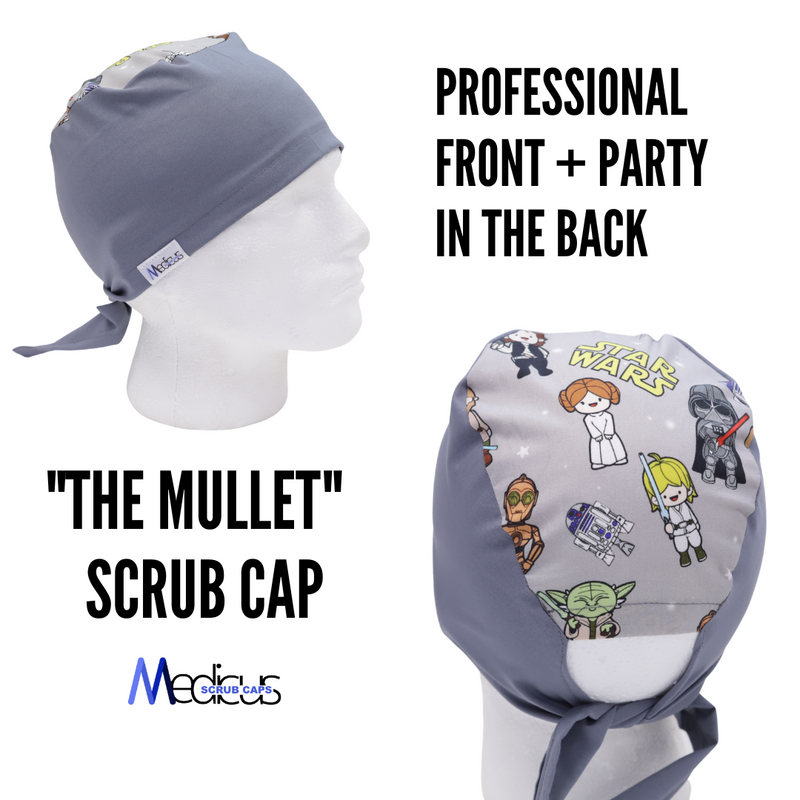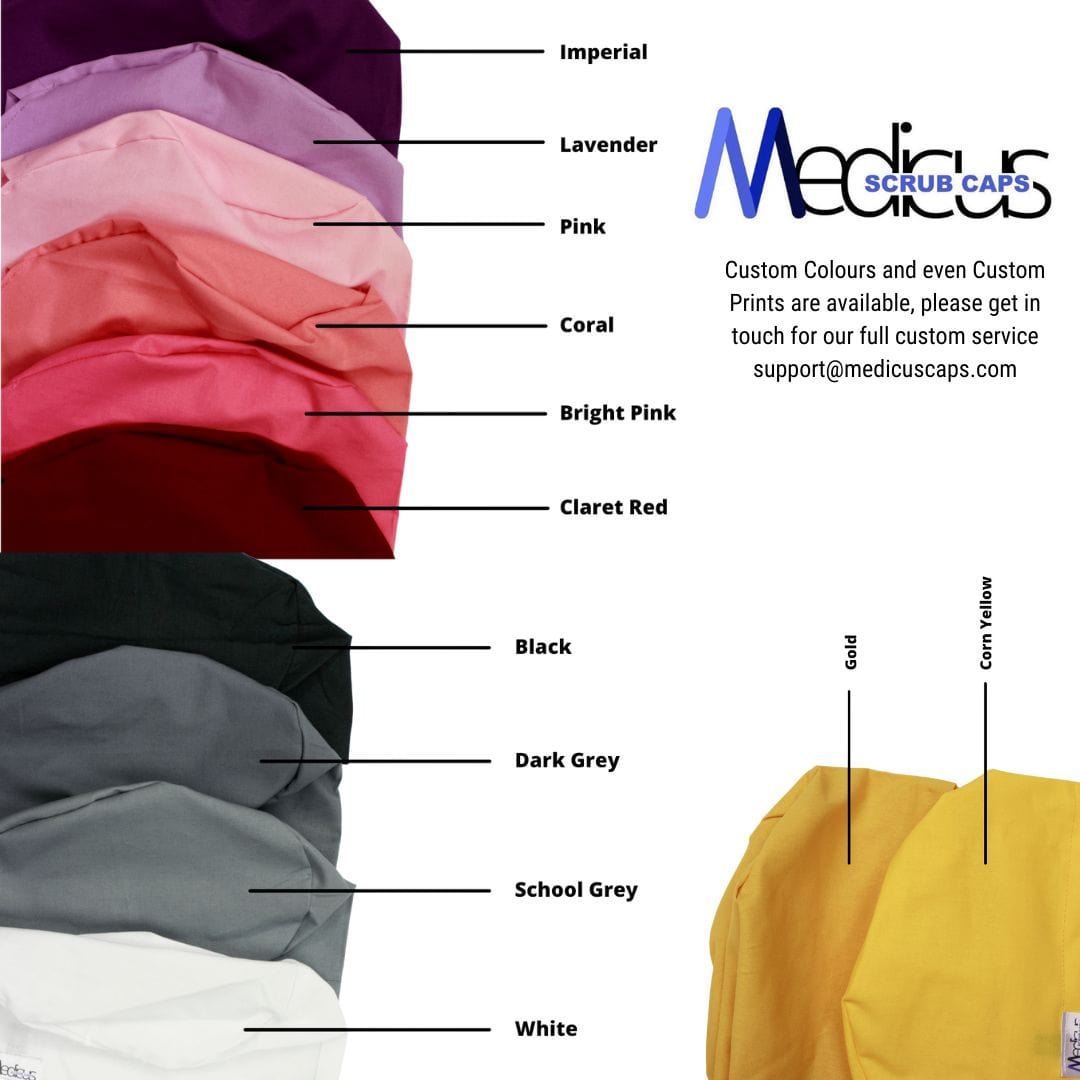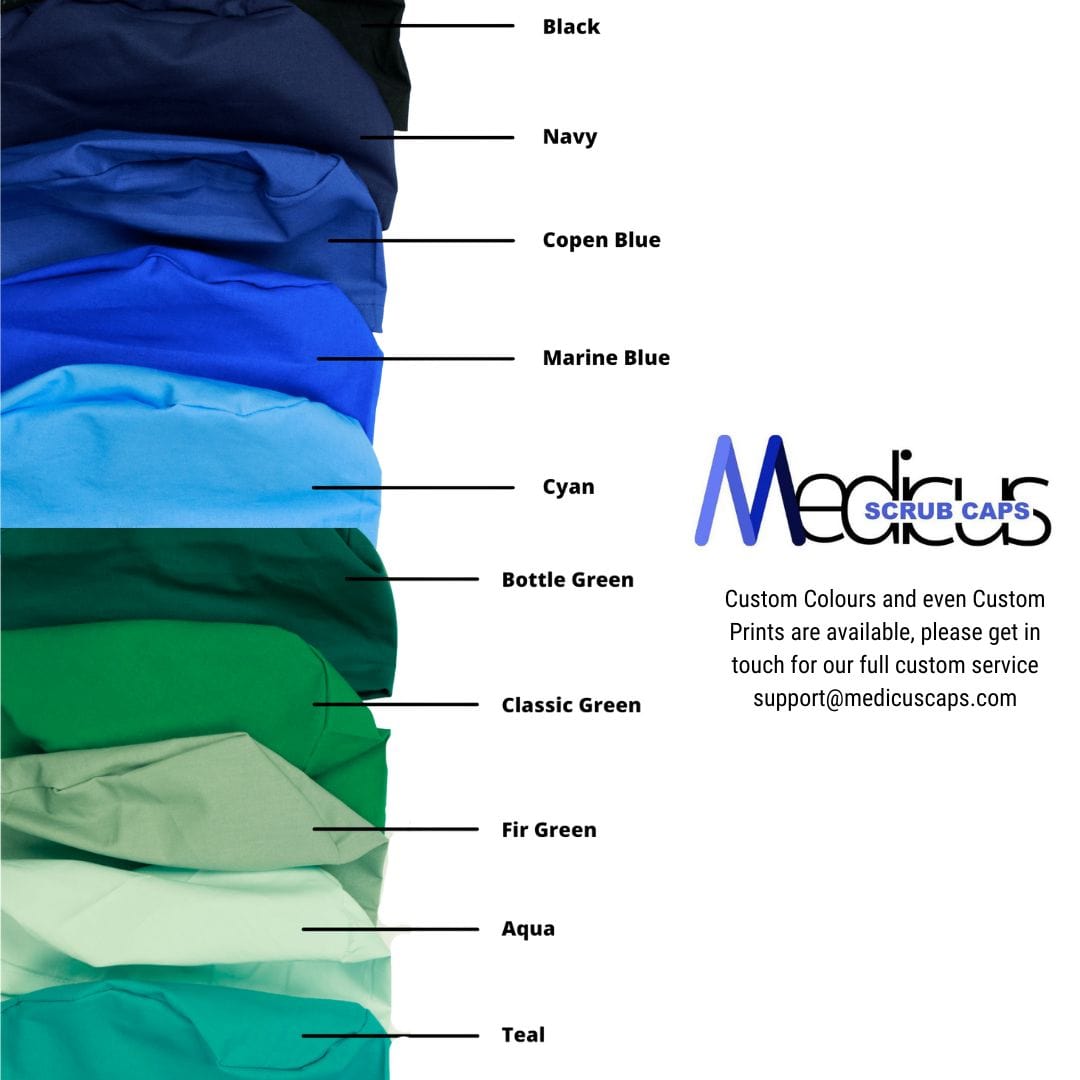 ---
Introducing Our Custom Printed Scrub Caps - Upgrade Your Scrub Game Today!
Are you tired of the poor fit of disposable scrub caps? Look no further than our Medicus Scrub Caps! Our scrub caps are made using custom printed fabric, ensuring you always look your best in the operating room.
More Sizes and Styles for a Perfect Fit
Our scrub caps fit much better than disposable ones and come in more sizes and styles, ensuring you always have the perfect fit. Plus, you'll never have to worry about them falling off during surgery!
Licensed Fabric for Unique Style
Some of our scrub caps are made with licensed fabric, meaning you can show off your unique style while staying within NHS guidelines for hygienic surgical uniforms. Don't worry, our scrub caps are not official merchandise, but rather made with fabric licensed by the company.
Hypoallergenic for Ultimate Comfort
We use 100% cotton to create our scrub caps, ensuring they are hypoallergenic and gentle on even the most sensitive skin. Plus, our elastic options are latex-free for added comfort and safety.
Made in the UK for Quality Control
From sourcing material to embroidery and sewing, we do it all in the UK for our scrub caps. Every scrub cap is made to order, making it a great way to reduce waste and improve quality control.
Add Embroidery for Personalization
Why not add your name and role to any scrub cap with embroidery? UK studies have shown that staff name recall can increase from 42 to 85%, and name and role introductions during the surgical safety checklist can increase from 38 to 90%. This not only boosts your standing in the department but can also improve patient retention and trust.
Upgrade your scrub game today with our custom printed scrub caps from Medicus Scrub Caps!
Turn anyone of these into a mullet scrub cap
Medicus Scrub Caps