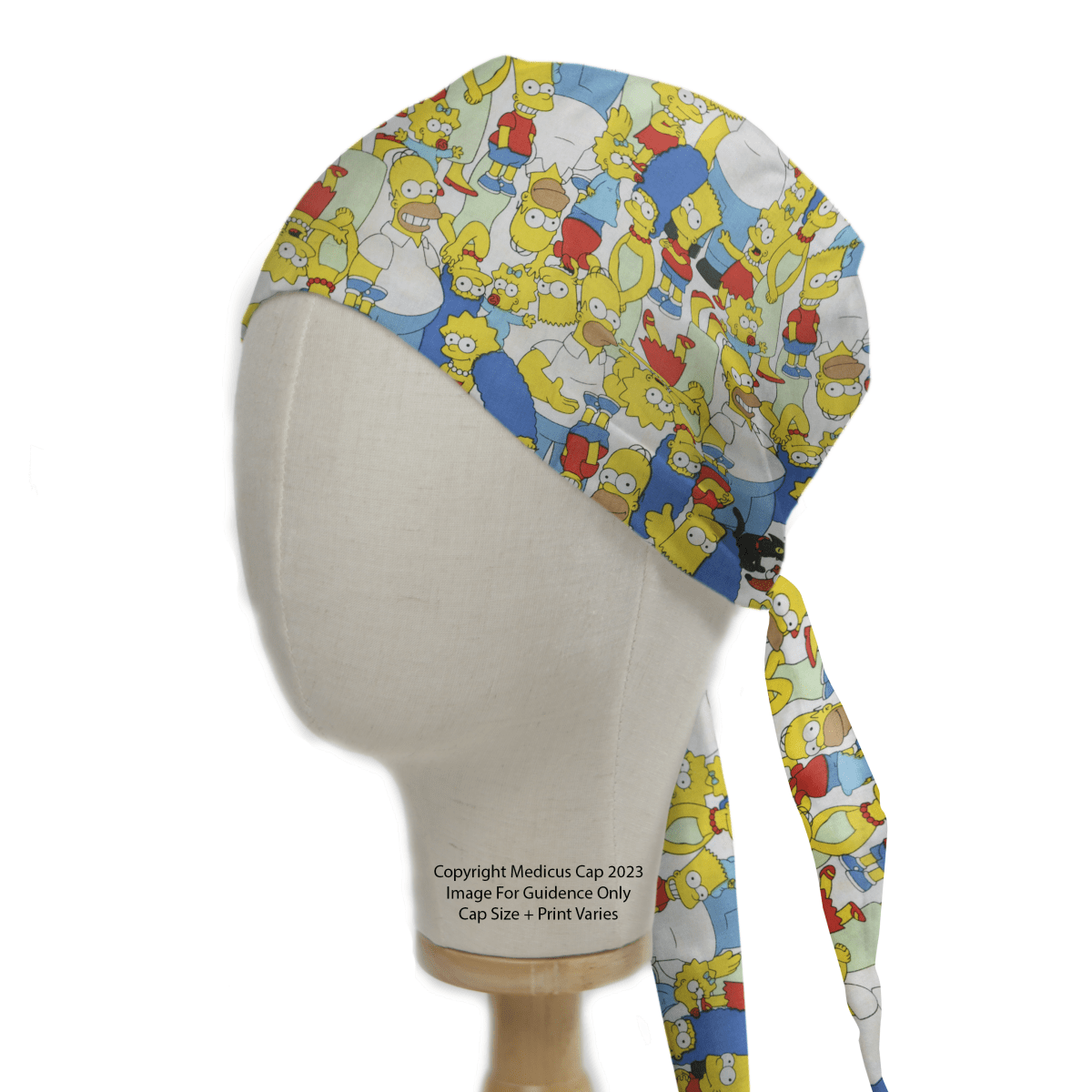 TV Cartoon The Simpsons Family Mashup Crowd Scrub Cap
---
Why You Deserve A Hand Made Scrub Cap
Fit Fit Fit = You are sick of the poor fit of the disposable one
Your Climate Impact = 20 theatres with reusable scrub caps replace about 100,000 disposable caps a year. 
You Value Team Interaction = UK studies have shown increased name recall amongst staff from 42 to 85%, increased name and role introductions during the surgical safety checklist from 38 to 90%.
Our Plain Cap Fabric Is The Highest Quality = 

EN71, Chromium VI & Oeko-tex Standard 100

Hypoallergenic = We opt for 100% cotton for its' hypoallergenic qualities and your Elastic is Latex Free from December 2022.
Made in the UK = Sourcing material to embroidery and sewing together. We do it all in the UK for our plain scrub caps. 
Every scrub cap is made to order = Great way to reduce waste and massively improve quality control.
Wear It Your Way

We offer bespoke solutions for individuals and whole hospitals to get scrub caps that fit and also can be customised to the users needs. 

Type Of Fabric

When you first come to Medicuscaps.com there might be a bit of an overwhelm in terms of where to start. We have lots of different options and this post will break down the best way to find the cap you are after.

First what type of fabric are you looking for? We offer:

- Plain Solid colour fabrics, great for embroidery.
- Patterned Prints + Licensed prints like Disney.
- Custom Printed Scrub Caps with your own design or one made by us.

Styles

Next once you have found the listing of the type of fabric you want then you need to consider your style of cap that will give you the most comfort. Do you have lots or no hair? Do you like to tie back or just have elastic.

The main styles we offer are:

A - Elastic Backed Scrub Caps
Great for hair that is tied up in a little bun or if you like to wear a cap without ties. This is for full coverage of hair and over ears. Choosing a smaller size will mean a more fitted look if you have shorter hair.

B - Bouffant Scrub Caps
This is only available in plain colour prints or custom prints due to the excess fabric. This is for very long hair like dreadlocks or large afro.  

C - Captain Scrub Caps
This is for those that need their ears free for loops or work in an environment where you don't need your hair covered completely.

D - Bandana Scrub Caps
This is the classic bandana that covers ears and ties at the back. Our ties are built in so no worry of them being pulled off.

Hijab Scrub Caps are now available in plain fabrics only.

Hijab / Turban and other specialist types of scrub caps are made to order as well so no one is left out.

Sizing

Next is the sizing of your cap and this comes down to your head size and also how you like to wear it. Some like it smaller and tighter, others opting for a comfort fit. 

Ideally measure your head and then you are less likely to be disappointed. We have given them sizes like Small/Medium but this is more in reference to the other styles.

Advanced Customisation

We then have lots of options you can choose to customise your scrub cap.

Elastic Backed Satin Lining

The elastic and bouffant scrub caps have the options for Satin lining inside the scrub cap. Generally these styles are chosen by people that have a lot of hair and want to keep form having a helmet hair do after wearing a scrub cap for hours and hours.

You then also have the option for using Latex Free Elastic in the banding at the back of the cap.

Embroidery

Embroidery of name and role is our most common ask but we essentially can do any text or digitise images that are vectors (it's not the same as a real picture transfer)

There are a few considerations when doing embroidery:
- We charge per placement. This means you can choose a logo or text on 4 spots on the scrub cap. Front, Left when wearing, Right when Wearing and the back. The most space is generally at the sides with the back having the smallest area to embroider on.
- If you have text and a logo on the same side of a cap that counts as just one placement and just a logo cost.

Text Embroidery Considerations
- Colour contrast of text means that a contrasting is a colour that will clearly stand out such as white text on a black cap.
- Colour blending of text means that on a black cap we would use a grey text so you can see it but it's not as contrasting and easy to see form a far.
- Text sizing varies depending on the number of characters in the text. Use a // to indicate a line break. We can advise if we think the overall writing will be either too big or too small and consult before embroidering.

View the embroidery text size guide here.

Logo Embroidery Considerations
- We can't embroider photo images onto scrub caps unless you have had them digitised by someone else. The amount of time it takes to turn photos into embroidery is very lengthy and so no cost effective for anyone.
- We can't do copyrighted images without permission. As much as we would like to just be able to embroidery anything you want on your caps we aren't able too if you don't own the rights to reproduce the image. This means we have to find alternatives like for instance instead of a Winnie the Pooh we find a bear eating honey.
- We recommend vector images because they have clear block colours that translate well to embroidery. We recommend using freepik.com and searching under Vector images. We have a commercial license with them to reproduce any images.

Custom Fabric

Embroidery is very very long lasting but another consideration if you just wanted your own pattern of surgical cap with a company logo all over the cap then a custom fabric will be a more efficient way to go.

This is because to achieve this with embroidery you are going to have to pay because of the multiple placements.

Next Steps

Being able to make bespoke solutions for you and your teams can mean the options get a bit overwhelming so it's easy to just pop us an email and jump on a call to quickly narrow it down.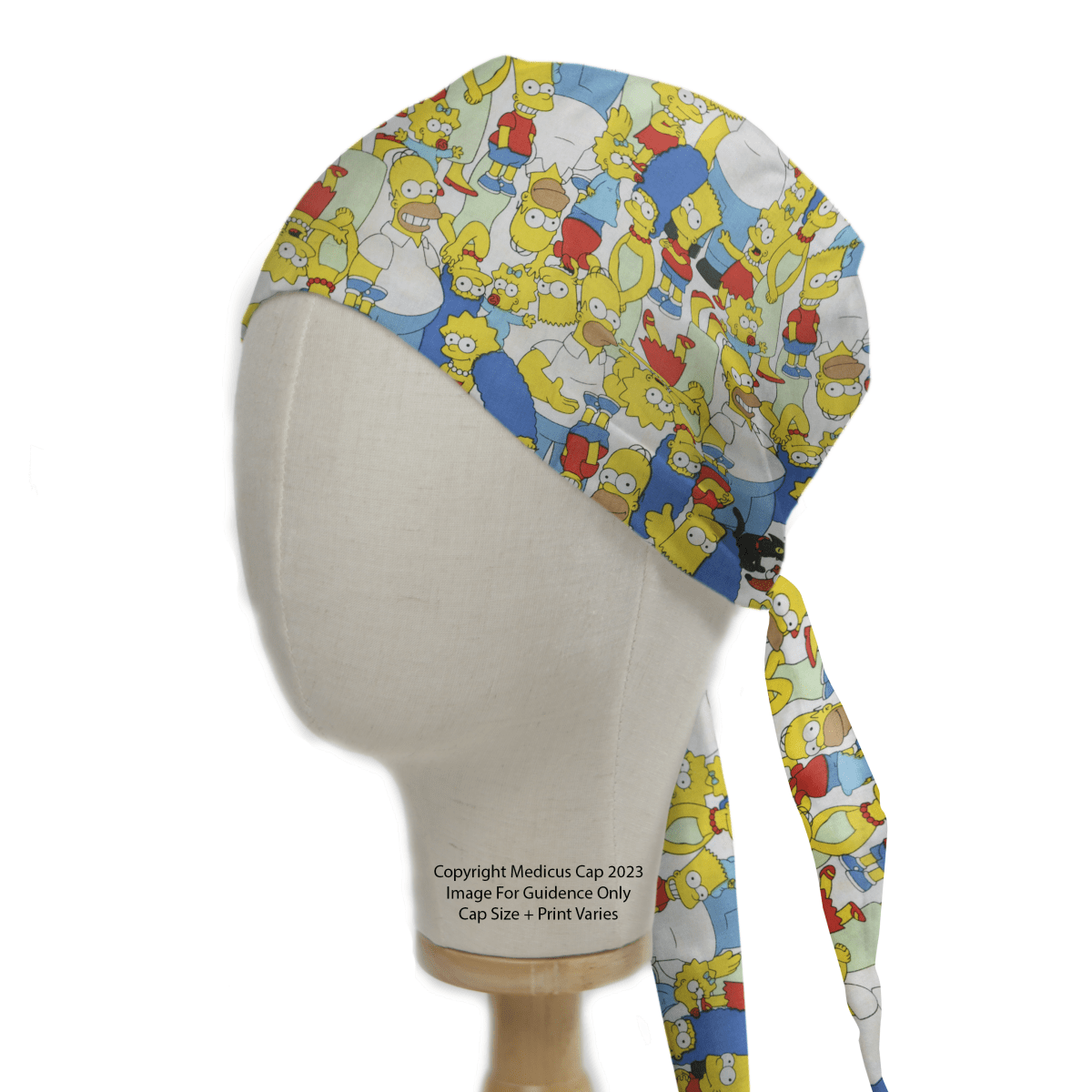 TV Cartoon The Simpsons Family Mashup Crowd Scrub Cap
Sale price

$18.00 USD
Regular price
Choose options